M2MClub is back with more horny hunks for you guys! Morfeo and Luca planned to visit the countryside so they took the SUV and hit the road. They saw a hitchhiking guy and they decided to give him a ride. Luca recognized Alex as soon as he got in the car. Luca and Alex been in the same fraternity while they were in college. They started talking about the good old times, telling Morfeo all kind of stories.
On the road they decoded to take a detour and book a hotel room for the night. You can imagine what happened next. Morfeo and Luca were hungry for Alex's cock and ass, so they undressed him and started double teaming him. While Luca was fucking his mouth, Morfeo was hammering his ass. The next morning The two guys gave Alex another goodbye fuck in the hotel's back yard and they hot the road again. If you are interested in watching frat guys fucking at parties, go to http://fraternityx.us/ and check them out now. Have fun and make sure to come back to check out our new scenes. See you soon!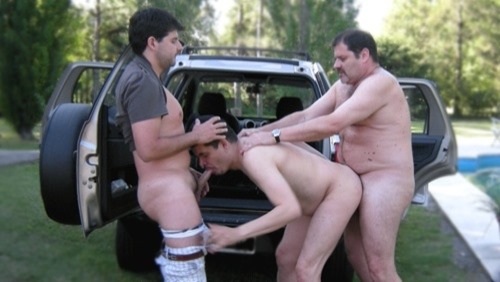 Watch these guy getting his mouth and ass fucked!